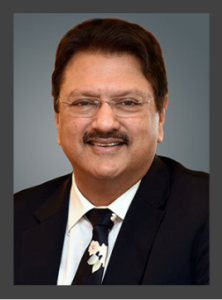 Mr. Ajay Piramal is the Chairman of Piramal Group, with activities in healthcare, financial services, real estate, information services and glass packaging among others. Apart from India, the Group has set-ups in the US, UK, European Union, Japan, Pacific and South Asia, with its products being sold in over 100 countries. He is also the Chairman of Shriram Capital, the holding Company for Financial Services and Insurance entities of Shriram Group.
The Group is involved in various CSR activities in the space of primary education, potable water supply, and leadership development, empowerment of women in rural India, rural healthcare and provision of mid-day meals to school children.
Apart from Group Companies, he serves on the Harvard Business School's Board of Dean's Advisors and the Chairman of the Board of Governors of IIT Indore, and Pratham (an NGO in the space of Primary Education). He is a Member of the Alternative Investment Policy Advisory Committee (AIPAC) constituted by SEBI, as well as the National Council of Confederation of Indian Industry.
Ajay is the Co-Chair of UK-India CEO Forum and was a Member of the Hon'ble Prime Minister's Council for Trade & Industry and the Board of Trade constituted by the Ministry of Commerce. In addition, he was a Member of the Hon'ble Prime Minister's Task Force on Pharmaceuticals and Knowledge-based Industries, and served on the Central Board of State Bank of India for 12 years.
Ajay completed his B. Sc (Hons) from Bombay University; Master in Management Studies from Jamnalal Bajaj Institute of Management Studies; and Advanced Management Program from Harvard. He has also been conferred with an Honorary Doctorate Degree in Philosophy (D. Phil) by the Amity University, India.