Asian Centre's Corporate Governance, Sustainability & Leadership Awards 2011
---
Asian Centre's Corporate Governance, Sustainability & Leadership Awards – 2011 Mumbai, February 22, 2012 Asian Centre for Corporate Governance & Sustainability presented Corporate Governance, Sustainability & Leadership Awards – 2011 at the hands of Dr. Shree M. Veerapa Moily, Hon. Minister for Corporate Affairs, Govt. of India, on 22nd February 2011 at 6.45 pm. at Y.B.Chavan Centre, Nariman Point, Mumbai. Swami Tejomayanandji – Head, Chinmay Mission, worldwide, was guest of honour and gave his words of blessings on the theme "Leadership through Spirituality at work."
Mr. Kumar Mangalam Birla – Chairman Aditya Birla Group,
---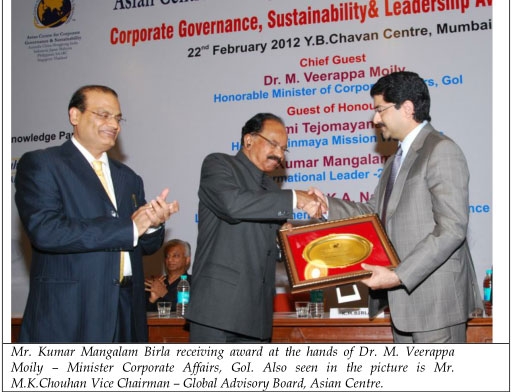 Lifetime Achievement Award For Public Governance
---
Mr. T.K.A.Nair – Advisor to the Prime Minister, Govt. of India.
---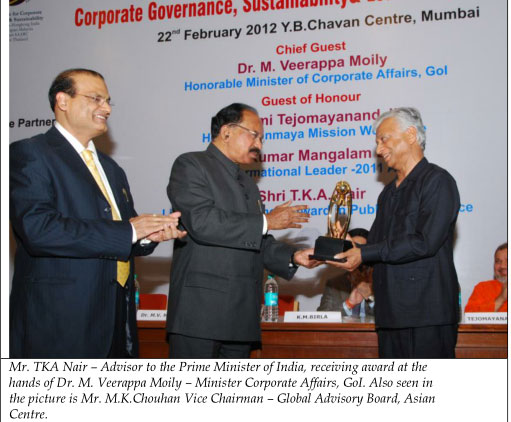 ---
Best Woman Director
Dr. Swati Piramal – Director – Strategic Alliances & Communications, Nicholas Piramal India Ltd
Best Independent Director
Mr. Subodh Bhargava – Chairman, Tata Communications Ltd
Best Governed Company
Asian Paints Limited (to be received by Mr. Ashwin Choksi – Chairman)
Best Audit Committee
TATA Motors Limited (to be received by Mr. Nasser Munjee – Chairman, Audit Committee)
Asian Centre for Corporate Governance & Sustainability was established on March 14, 2001 as a 'Not for Profit' independent institution, with a vision to become a 'Think Tank' and a 'Catalytic Institution' to bring about qualitative improvements in the Corporate Governance & Corporate Sustainability practices of Asian Companies, optimizing value for shareholders & stake holders in a balanced manner. Playing a strong advocacy role, Asian Centre encourages companies to generate wealth in a socially responsible manner by protecting the environmental capital and ensuring sustainable development of communities and Society.
The objective of these awards is to raise the quality of Corporate Governance and to recognize the companies & Industry leaders & Directors, who are doing exemplary work in improving Governance standards of their respective companies. Asian Centre for Corporate Governance & Sustainability has been giving these Awards since 2006. Over the years these awards have assumed a coveted status and have become a part of yearly calendar of corporate Asia.
For more details please contact
---
Asian Centre For Corporate Governance & Sustainability
---
+91 22 2351 7023 accg@asiancentre.org
Awards
Corporate Governance & Sustainability Awards - 2012
Corporate Governance & Sustainability Awards - 2011 at Mauritius
Corporate Governance & Sustainability Awards - 2010
Corporate Governance & Sustainability Awards - 2009
Corporate Governance & Sustainability Awards - 2008
Corporate Governance & Sustainability Awards - 2007
Corporate Governance & Sustainability Awards - 2006